I hope everyone had a wonderful holiday season! I personally made it a point to spend much needed time with family! I thought I'd share some of my favorite moments with all of you!
We kicked off the Christmas season doing one of my favorite things...Making Christmas cookies! We gathered in my mom's kitchen and made Dashing Dish Skinny Sugar Cookies!
They were just as much fun to make as they were to enjoy!
I hosted a gingerbread house party, and served these cookies and a festive veggie tray! It's proof that you truly can enjoy healthy yet tasty food around the holidays! :)
One of my favorite moments of the Christmas season was our annual gingerbread house decorating party!
Sean and I were a team, and we constructed the house from the movie "UP"...So fun!
We spent Christmas Eve at my mom & dad's with tons of family, and tons of food as you can see! :) I made my Mashed Cauliflower, Sweet Potato Casserole...
And for dessert my Peppermint Brownie Trifle!
The best part of the season however was spending time with my best friend and husband! He has been working so hard lately, and it was wonderful to take time away to spend together!
I also felt very blessed to have family joined in one place...and I am so blessed to say we truly all joined together to celebrate the birth of our Savior!
One of the best traditions of our Christmas Eve party is our 'white elephant' gift exchange...It's always so much fun!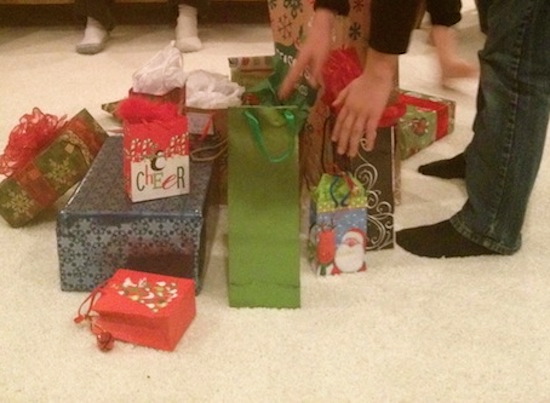 I can honestly say that a part of me still feels like a kid when I go to bed on Christmas Eve!
We woke up on Christmas morning with my sisters, (and their husband and fiance), my husband and my parents. It was a beautiful white Christmas here in Michigan!
My sister Emily and I got right to work in the kitchen preparing our Christmas breakfast!
We prepared Dashing Dish Monkey Bread,  Frittata, Egg Nog Pancakes, and Coffee!
I also made cinnamon made french toast for the boys!
My mom always sets the table with our special "Christmas Mugs"!
The day after Christmas we went to my Aunt's house, where we got to see my cousins that live in California! It was a special time, as we only see them about once every few years!
As always, it felt like we blinked and New Years was upon us! For New Years Eve my husband and I went to a sushi restaurant with my sisters and their boys! I am not a huge fan of sushi, so I generally just get teriyaki chicken with a side of veggies! We went back to my sisters house where we spent the night afterwards.
On New Years Day we spent the day scrapbooking! Every year my sisters & I spend New Years day scrapbooking the best memories of that year. We do one or two pages per year in a book that narrates our life! It's a really fun way to look back and see the best moments of that year captured in one place!
I pray you all had a blessed holiday season...but even if it wasn't as you'd hoped, know this....the King of the World LOVES and cares for you...and in every season Jesus Christ is still savior! Because of that we all have a reason to sing, and a reason to worship! :)
Now on to January, and a new year! Have you made any resolutions!?! I plan to spend the next few weeks praying about what the Lord would have for the year to come...In me personally, in my marriage, and of course through Dashing Dish! I'm excited to see what He has in store! xo