For me..The biggest and best day of my life (so far) was my wedding day (not counting the day I gave Jesus my heart and life of course!) In fact, this topic came to my mind in particular, because my 1 year wedding anniversary is coming up this August 8th!
A lot of people asked me what I did to 'get in shape' for my wedding.  It surprised many people (even myself at times while I was going through it) when I said that I worked out less...and ate more....to get my body in terffific shape! In fact, I have continued this 'approach' on fitness/eating to this day, (which shows it is attainable, and realistic)...And haven't gained back a pound, and have 'toned' up even more since that day!
In our society today, people 'stress' that you should exercise more, eat way less, and go to all sorts of 'extremes' to get in shape for a special occasion! It's no surprise then, that it's considered 'common' for women to gain 10+ pounds back during their first year of marriage, and/or why people gain back 'all the weight (and then some) after every 'crash diet' they go on!
The problem with all of these 'extreme' forms of getting in shape is that they are not realistic to stick to long term, and they 'shock' the body so much so, that often times, a person's metabolism actually slows down in order to prevent the body from loosing too much fat, too fast.  In addition, extreme dieting and/or exercising can actually break down muscle tissue instead of (or in addition to) fat which also has long-term negative consequences! You can read more about that (in a short sum-up) by clicking HERE.
The reality is, we were all born with different genetics, which determines our body size and shape. We have the ability to make the 'best' out of what we have been given, and when it comes to those 'special days' in life, we have to pay attention to the health of our bodies, in addition to taking a balanced approach to getting in shape.
We ultimately must recognize that we will still have to work with this body even after the 'big event'...so it's best to treat our bodies with respect, and give them rest when they need it, along with a balanced diet, and of course a variety of exercises that are intense, yet fun, and something we will stick to when life after the fact continues on....Which it always does! :)
Now, without further ado, I thought I would post a few pictures of this most-wonderful day that took place (almost) a year ago...The day I married my BEST FRIEND! :)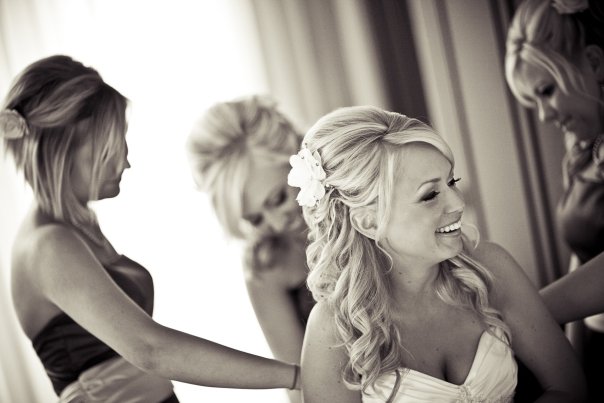 Now for a special shout-out! Thank you Jesus for sending a mighty man of God to me to be my husband and life mate! :) Thank you to all of our friends and family who were there to support us on our special day, and have been there every day since. And last but not least...Thank you to my wonderful husband for giving of yourself every day 100% to support, love, cherish, and pray with me! I love you! :)